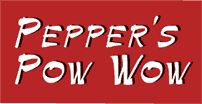 A moving tribute to Jim Pepper,
a contemporary Native american jazz musician
who was an innovator in jazz-rock fusion as
well as world music.
Pepper learned peyote chants at his
grandfather's knee and then went on to
successfully fuse Native American music with
jazz. Wichi Tai To, based on a peyote chant
has become a jazz classic.
Musical highlights include Witchi Tai To, Comin' &
Goin', Caddo Revival, as well as his work with
other world renowned musicians.
57min.
Broadcast on PBS in 97-99
Producer: Sandra Osawa
$30 for home and personal use
$150 for schools, libraries and institutions
order online, now!
order by mail
Reviews:
If you can't watch this special on jazz saxophonist Jim
Pepper, tape it for later. It's not just a progam it's an
achievement. And it's not just that the music is wonderful and the story is powerful–it's the subtle and careful way this one-hour documentary unfolds its riches that makes it a paraticular treat. "Pepper's Pow Wow" traces Pepper's life, work and philosophy of music as a healing art. Pepper has brought his Native American heritage to his music from the 1960′s to the present, playing with other vanguard jazz musicians of his time, from Ornette Coleman to Don Cherry and Keith Jarrett. The compelling interviews with Pepper and his colleagues are an articulate and moving oral history of both the man and his times. The cinematography and editing by Yasu Osawa are extraordinary. Kudos to producer Sandra Sunrising Osawa for staying with this wonderful project for 10 years. Hollywood Reporter, Joan Van Tassol – Nov. 21, 1997